The Incentive for Excellence
An Industry Blog on All Things SITE. Your one stop shop for chapter news, industry events, trends, and tips from the pros.
2 minutes reading time
(428 words)
CSR: 5 Innovative Ways to Give Back
CSR is one of the hottest words in the event industry over the past few years and we are certainly taking note. Corporate Social Responsibility (CSR) is becoming more and more recognized as a permanent slot in your meeting itinerary and rightly so. Businesses recognize the importance of off-setting their footprint and connecting with the local community. Organizing CSR projects provides businesses with:
Connection and knowledge of the local area and the people that live there
Great PR! It looks good on paper (and websites), folks. More and more clients are looking to work with companies who donate their time or resources to a good cause
Provides a way for your employees to get to know each other, work together, and complete a project that they feel really good about
Here are 5 innovative CSR ideas from the pros for your next event…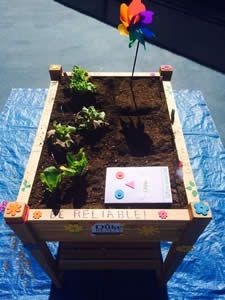 Garden Build: The current obesity and health crisis affecting children and families throughout the United States is a major concern for the future of our society. With the support of the national "Let's Move" campaign there is a strong movement for community gardens and educational programming surrounding healthy food choices. A program like this is fun and engaging program combines team challenges with building gardens to provide healthy foods, particularly those high in anti-oxidants/cancer fighting principles to local families and children.
Computer Build: This is an exciting Corporate Caring community service project that combines fast-paced team building challenges with the charitable donation of computers to a local school or non-profit! Participants leave feeling a strong sense of admiration for their teammates and the company they work for.
Military Card Making/Care Packages: On a budget or time restraint? Set up a military card-making station and lay out items for participants to pack up and send to our troops oversees!
Local Service Project: Create an off-site event by calling your local CSR/Team Building provider or chatting with the local Parks and Recreation. Do a beach clean up and end with a Sandcastle Build, plant trees and native plants at a local park, or paint a mural and do on-site maintenance at a local non-profit!
Surfboard Art/WheelChair Build: This is a great example of a locally-minded project. Down here in San Diego, we have beaches, we have Veterans, and we have good waves! So, naturally, a local non profit was created to provide surf therapy programs for local wounded Veterans. They had a need for Surfboards and Beach accessible wheelchairs and a corporation stepped up to make the dream come true.
What will you do to create change?
Comments
No comments made yet. Be the first to submit a comment