The Incentive for Excellence
An Industry Blog on All Things SITE. Your one stop shop for chapter news, industry events, trends, and tips from the pros.
3 minutes reading time
(658 words)
2017 SITE Young Leaders Conference: Fostering Connection, Education, and Inspiration

Another successful SITE Young Leaders Conference has come and gone but the memories and relationships made last week in Las Vegas, Nevada will be sure to continue to resonate through the young minds of our industry. From what we have learned from past SITE Young Leaders Conferences, these relationships will become deeply rooted friendships, mentorships, and peer support. What facilitates these outcomes? A great venue, global participants, and thought-provoking content.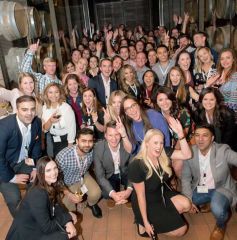 Photos by Kelli Price PhotographyThis year's SITE Young Leaders Conference Chairs Greg Byrnes of Northstar Meetings Group and SITE Southern California's very own Jamie Lee Tiffany of L'Auberge Del Mar spearheaded the 2017 conference at the M Resort Spa Casino on October 8-9, 2017. The duo along with their committee constructed an agenda packed with great educational content, speakers from all aspects of the travel industry, and of course plenty of time for networking and team building. Ninety-two Young leaders from around the globe attended!
The Young Leaders Conference kicked off with a State of the Industry address led by Michael Dominguez, Chief Sales Officer of MGM Resorts International. With the conference beginning exactly one week after the deadliest mass shooting in modern US history, Dominguez gave a very personal account of the tragedy that unfolded in the host city.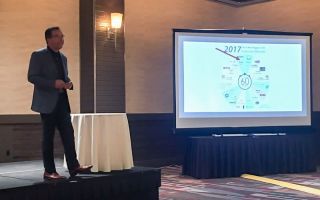 Dominguez continued the discussion by addressing what this means for our industry, the nation, as well as our global community. Emotions spread throughout the room as Dominguez and his colleague and young leader, Jenna Hinton (Sales Manager, Delano), relayed their experiences of the past week along with the tremendous support they received from their colleagues and the hospitality industry. It was a true telling of how our industry can be a beacon of light even in the worst of times. The SITE Young Leaders Conference and IMEX represent a global community of love and strength. Many would agree Dominguez' introduction to the conference could not have been done better!
As the two days continued, the Young Leaders attended sessions and participated in lively discussions led by Greg Bogue (Maritz Travel), Jeff Weiner (One10), SITE Young Leaders Alumnae, Rhonda Brewer (RMC DMC), the M Resort Executive Team, and Mike Lyons (Lyons Pride Enterprises, LLC).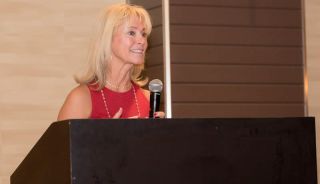 Photos by Kelli Price PhotographyAlways finding creative ways to network, the young leaders planned their welcome reception over wine dispenser pours at Hostile Grape Wine Bar in the M Resort, they participated in an early morning "Sweatworking" workout, and even managed to incorporate a Bloody Mary & Mimosa Bar into their break station. Networking done right, I would say!
With all the Young Leader's received throughout the conference, they made sure to give back to the city that hosted them and donate can food to the people of Las Vegas. With the help of Idea Team Building, the group donated hundreds of meals through a team event called "Can Do!"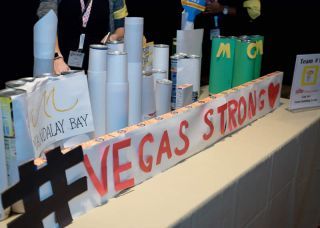 Photos by Kelli Price PhotographyThe conference could not have been held without the help of SITE Chapters, AIC Hotel & Resorts, Euromic, One10, Northstar Meetings Group, Simply Munich, Maritz Travel, IBTM Events, Kelli Price, Miami Air International, IDEA Team Building, and of course the many companies employing our young leaders.
And a very special thank you to IMEX Group and SITE Southern California for sponsoring 11 SITE SoCal Young Leaders to attend this incredible event.
After the SITE Young Leaders Conference, the majority of the attendees participated in IMEX America. They carried out the week inspired and energized from a great start to the week.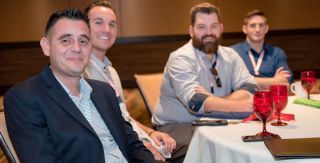 Photos by Kelli Price PhotographyFor a first hand look into the conference, be sure to search #SITEYLC and #SITEUNITE – the official hashtags of the SITE Young Leaders Conference. 2018 #SITEYLC planning is already underway. If you are under the age of 35, or have less than 5 years of experience in the industry, and would like to attend or have interest in speaking or sponsoring the conference, be sure to visit http://www.siteglobal.com/youngleaders for announcements.
Photography Credit: Kelli Price Photography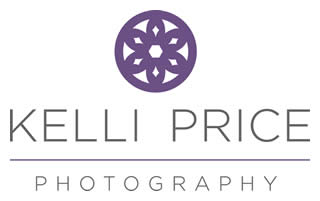 Comments
No comments made yet. Be the first to submit a comment