The Incentive for Excellence
An Industry Blog on All Things SITE. Your one stop shop for chapter news, industry events, trends, and tips from the pros.
5 minutes reading time
(912 words)
2015 SITE SoCal Holiday Event - Making a Difference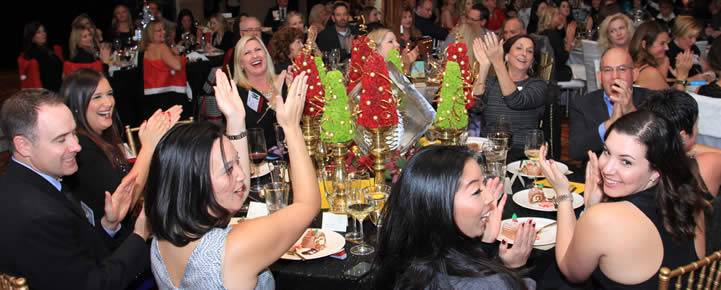 Thank you to everyone that attended and supported the 2015 SITE SoCal Holiday Event. The Holiday Event is our chance to come together for the greater good; each one of you makes a difference to the charities we choose, and I wanted to share with you these heartwarming notes received by Diane Herrmann, our dedicated VP Community Outreach. Diane has fulfilled her role on the board with integrity, caring and commitment and the chapter is fortunate to have had her services for the past three years.
Thank you and all my very best wishes for the holidays.
Geraldine
---
from Shades of Pink Foundation
Dear Diane,
Now that we are a couple days out, I wanted to let you know how appreciative we are for all of your work for the SITE SoCal event.
The funds we receive from this event are sure to at least double all of the funds we raised in the last two years. I cannot express how much this is going change the way we operate in 2016. I will be sure to keep you up to date on how many lives we change as a result.
We all commented on how impressed we were with the auction. Not only was it beautiful and well organized, the food was amazing, the company was friendly and it was just fun.
From the Board of Directors of Shades of Pink Foundation California, we want to extend the most sincere gratitude for your efforts and we wish you Happy Holidays.
---
from CureDuchenne
Dear Diane,
It is difficult to sum up how honored and grateful we, at CureDuchenne Cares, are to have been included in the Site SoCal Holiday Event this week. It was a truly beautiful experience to see the membership embrace Luci with love and support. It is clear that SITE SoCal is an extraordinary group of individuals and companies that truly do elevate every experience they are connected with. We, at CureDuchenne, are honored to have been included.
A situation came about today that I must share with you -
This morning I received a message from a friend of our organization. She was crying. She explained that she had a chance encounter with the mother of a local boy with Duchenne. The mother has two children, a 9 year old boy with Duchenne and a 13 year old girl with Recurrent Respiratory Papillomatosis (a disease in which tumors constantly develop and need to be removed from her throat; the girl has endured over 50 surgeries).
The mother explained that cost of raising two children with special needs had presented a disappointing challenge for her family this year; she and her husband were going to have to tell their kids that there would be no gifts for Christmas this year. Our friend reached out to us with this information, and we were able to tell her that the kind folks at SITE SoCal had recently provided several presents for Southern California families.
Because of your kindness, Santa will be visiting the family this year, and those parents are spared from having to tell their kids that they cannot afford to celebrate the holidays.
This might be called a holiday miracle, maybe just a beautiful coincidence. Regardless, this family would not have Christmas without you and the members of SITE SoCal. You have bettered the lives of those with Duchenne within a matter of days. I cannot wait to share the inspiring stories of the CureDuchenne Cares So Cal family workshops once they have taken place.
You and your group have truly elevated the experience for local families with Duchenne. Please consider this message a great big e-hug! We just can't thank you enough.
Warmest wishes,
Rachel
Rachel Nelson | Director of Development
CureDuchenne
---
from Frosted Faces
Good evening, Diane!
Thank you for electing Frosted Faces Foundation to benefit from your SITE SoCal Charity Dinner in 2015! Of course, we are incredibly grateful, especially as a newly incorporated nonprofit with so many goals and a desire to grow.
When we pulled into the La Quinta Resort & Club we were in complete awe at the grounds. It's not easy to get away from the responsibility of our senior dogs at Headquarters, and it was a beautiful experience personally and professionally. I don't think we expected such a grand dinner with so many attendees who invested so much thought into their table decorations and then donated a significant amount of money with our senior dogs in mind. SITE SoCal really took advantage of every opportunity to benefit the charities by rallying donations for the silent auction, live auction, raffles, the 5K race, golf tournament, and the dinner. You sure know how to host a fantastic event!
It was an honor to show our work through our video and presentation, but not only that, to have so many SITE SoCal members approach us afterward who wanted to donate more, volunteer, hear more about us, and meet Daria & Donna. That means more than anything! After all, we are out to change people's hearts and scout families for our senior dogs!
Thank you again for recognizing and rewarding our work so that we can continue our mission of fulfilling the promise of family to the senior dogs whose love and lives are left behind in the shelter system. We can't wait to share with you how we are able to put the SITE SoCal donation to use!
Kelly Smíšek
Founder and President
Frosted Faces Foundation, Inc.
www.frostedfacesfoundation.org
(715) 574-6320
Comments
No comments made yet. Be the first to submit a comment