The Incentive for Excellence
An Industry Blog on All Things SITE. Your one stop shop for chapter news, industry events, trends, and tips from the pros.
3 minutes reading time
(550 words)
Bringing Mobile to the Office: The Benefits of Apps for Enterprise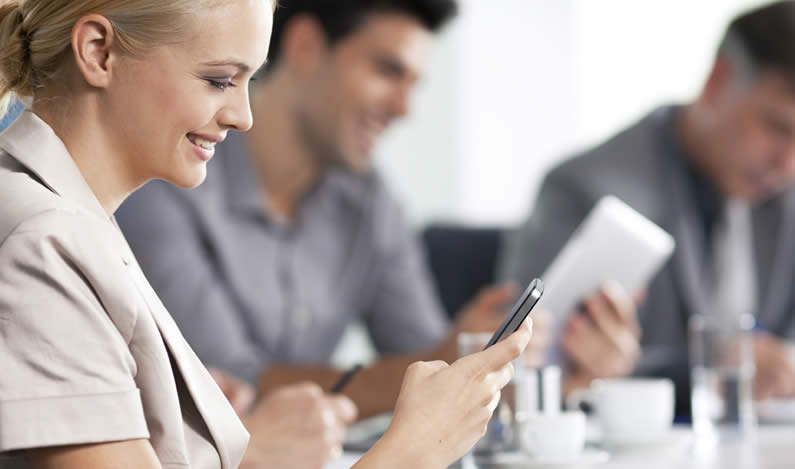 Lumi partner, QuickMobile, just came out with a thought-provoking ebook on "Going Mobile: A Planner's Guide to Enterprise Meetings and Events," which inspired me to delve further into the new mobile workforce. Keep reading for a few of my key takeaways on how mobile and apps can benefit companies, and check out QuickMobile's ebook for more best practices.
Bringing Mobile to the Office
The workforce is going mobile. Forrester estimates that by next year 350 million workers will use smartphones – 200 of whom will take their own devices to the workplace.1 So, your employees are already coming to work every day with a mobile device chock-full of apps, are any of them helping drive your company's objectives? They should be. There are several ways enterprises can utilize mobile to create better meetings, increase employee satisfaction, and improve internal communications.
According to a research report by Apperian2, the main benefits sought from enterprise mobility are to improve business processes, increase employee satisfaction and to achieve a competitive advantage. The inherent features of mobile can help your organization accomplish just that, by providing:
Ongoing Engagement
Using mobile apps that offer embedded audience response features (instant polling, messaging and surveys) throughout internal and external meetings engage participants, giving them an easy-to-use platform to share their thoughts, opinions and questions. Interactive apps also allow meeting stakeholders to gain in-the-moment feedback on new ideas, easily gauge levels of understanding, and learn what people want to cover next time.
Enterprise-wide apps also allow you to extend engagement beyond your meetings and throughout the organization. Whether used to gear employees up before a big event, or simply used day-to-day, an app can help create a continuing sense of community and encourage connections among team members through person-to-person messaging, gamification and built-in social networking. Having the opportunity to connect and voice their opinions leads to an engaged and satisfied workforce, which is often accompanied by a boost in company revenue.3
Constant Communication
An enterprise app allows you to distribute resources among your teams quickly and easily, using the device that's always on, their smartphone. Utilize the app to share documents, PowerPoint slides and even video, simply updating everything to the latest version when necessary.
Take advantage of push notifications to remind employees when plans change, new content has been added or in-app surveys become available. Embed your company Twitter feed or LinkedIn page within the app to ensure employees are receiving the latest news via your social media channels.
A Wealth of Data
Mobile apps for enterprise provide a digital record of its users' activity, allowing you analyze information, draw conclusions and make more informed decisions. Make the most of the quantitative and qualitative data captured to measure engagement during meetings, track the most-accessed content, and better understand employees and their behavior.
Through the abundance of data generated via app usage, your company can gain vital knowledge about itself and its staff, identify areas for improvement, and unearth ideas for advancement – ultimately helping your organization run more efficiently.
For more best practices on employing apps throughout your enterprise's meetings and events, check out our partner, QuickMobile's, guide to going mobile.
References:
Get Ready for 1 Billion Smartphones by 2016, Forrester Says
http://bits.blogs.nytimes.com/2012/02/13/get-ready-for-1-billion-smartphones-by-2016-forrester-says/
Executive Enterprise Mobility Report, Apperian 2014.
https://www.apperian.com/resources/2014-executive-enterprise-mobility-report/
Hay Group Study
(http://www.haygroup.com/us/downloads/details.aspx?id=7343)
Comments
No comments made yet. Be the first to submit a comment