The Incentive for Excellence
An Industry Blog on All Things SITE. Your one stop shop for chapter news, industry events, trends, and tips from the pros.
1 minute reading time
(282 words)
Hyatt Convention Alliance - Turnkey Solutions for Planners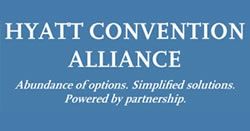 The Hyatt Convention Alliance is a program developed for planners who organize multi-year or multi-city bookings for their organizations. This grassroots effort was created to respond to meeting our customers' needs with turnkey solutions. We simplify an otherwise overwhelming task of contracting multiple meetings at Hyatt's finest convention hotels by streamlining the sales and event planning processes. This includes:
Customized concession package and incentives at proposal stage so you can understand multi-year impact on your budget
Site visit arrangements and/or board presentations to alleviate schedule challenges
One contract review and negotiation to save you time and legal resources
Consistent pre and post event reporting between properties to ensure a seamless turnover process leaving the small details of the planning process to us so you can focus on the bigger picture
Event planning commitment including attendance at prior year event – one more assurance to our strategic approach to ensure we are all working towards the same objective
The Hyatt Convention Alliance combines the collective power of Hyatt's 10 largest meeting properties in key markets, each offering strategic expertise and an unrivaled commitment to quality and service. The Alliance is comprised of Hyatt Regency Atlanta, Hyatt Regency Chicago, Hyatt Regency Dallas, Hyatt Regency Denver, Hyatt Regency McCormick Place, Hyatt Regency New Orleans, Hyatt Regency O'Hare, Hyatt Regency Orlando, Grand Hyatt San Antonio and Manchester Grand Hyatt San Diego. These 10 hotels offer more than 1.5 million square feet combined functional event space and 13,313 beautifully appointed guestroom.
With the Hyatt Convention Alliance, you can rest assured that our dedicated meeting experts will graciously handle all the details and artfully manage the distractions, so you become free to succeed.
Comments
No comments made yet. Be the first to submit a comment