The Incentive for Excellence
An Industry Blog on All Things SITE. Your one stop shop for chapter news, industry events, trends, and tips from the pros.
3 minutes reading time
(574 words)
After the Earthquake, Out of Recession: The True Story Behind Signature Hand Engraving
SITE SoCal would like to thank Tom Bwarie from Signature Hand Engraving for being a strong ally and sponsor over the years. Tom is dependable and a true expert in his field. Below is his story that we found captivating and we hope you do, too.
Tom Bwarie didn't know what to do. Almost overnight, his thriving retail business had disintegrated.
It was 2008, the pit of the worst global recession since World War II. For the first time in Bwarie's 30 years as a business owner, the phone stopped ringing, and sales calls came up empty. A fortune in inventory sat stagnant on the shelves.
"I was so frustrated and depressed," Bwarie remembers. "It was more than scary."
And yet in the midst of crisis, Tom Bwarie discovered the opportunity for reinvention. His current company, Signature Hand Engraving, perfectly blends his business acumen, innate generosity, and lifelong passion for art.
Surfboards and Steven Spielberg
From 1977 to 1994, Bwarie and his wife, Norma, specialized in crafting one-of-a-kind gift baskets for high-end clients in Southern California's entertainment industry.
"We had a fabulous store on a busy boulevard in Sherman Oaks, near Los Angeles," Bwarie says. "Norma worked right alongside me, and we raised our three kids in the store. It was so old-fashioned, but it worked for us."
Bwarie loved the creative challenge of delighting clients with unique personalized "baskets" made from unorthodox materials, even saddles and surfboards. For Steven Spielberg, he once stuffed a giant wicker picnic hamper full of goodies, plus a tape recorder that played the theme from Raiders of the Lost Ark.
Rubble and recession
In 1994, the Northridge Earthquake rocked Los Angeles and left the Bwaries' store in shambles. The couple rebuilt, but the area never really came back, so they eventually left LA and started over in Carlsbad, a seaside town near San Diego.
For 12 successful years, the Bwarie Gift Basket Co. served an enthusiastic new customer base. But in 2008, when the economic downturn hit, Bwarie's revenue tapered to a trickle, and his life "stagnated."
"I was just going through the motions of life each day," he recalls. "I'd go to the store each morning and do busy work to compensate for the fact that I didn't know where I was heading."
A glimmer of hope reappeared when Bwarie volunteered at a couple of charity events, hand engraving guests' names on souvenir wine glasses. People loved it.
"It tickled me that everyone saw how simple this service was and yet how impactful for the event," he continues. "People came up to me and said, 'Thank you so much. This is the best part of any event I've ever been part of.'"
Signature events and souvenirs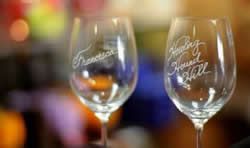 From there, Bwarie began working wine tastings for tips, hoping to create enough supplementary income to survive the recession. Right away it became clear he was on to something more.
At every event, guests crowded around to watch their names appear in exquisite penmanship on wine glasses they took home with pride. Event hosts appreciated the double benefit of providing guests both a branded souvenir and an interactive experience. Tom Bwarie felt the clouds lift.
"Within a few months, I knew this was what I was going to do," he says. "I was going to be hand engraving mementos as gifts at social and corporate events."
To book Signature Hand Engraving for your next event, contact Tom Bwarie at tom@signaturehandengraving.com
Comments
No comments made yet. Be the first to submit a comment