The Incentive for Excellence
An Industry Blog on All Things SITE. Your one stop shop for chapter news, industry events, trends, and tips from the pros.
6 minutes reading time
(1185 words)
David Paul Nordquist passed away on March 20, 2015
It is with much sadness that we learned of the sudden passing of David Nordquist on Friday, March 20. David was a wonderful friend to many of us, a great industry colleague, a staunch long-time SITE SoCal supporter and a devoted and loving father to his daughter, Mahana Grace. Our world will not be the same without him. He will be very much missed by all of us who had the pleasure of knowing him.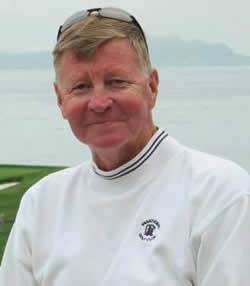 Our good friend, David Nordquist, was a gem of a man, and when I say 'man' read that as all mankind.
David first appeared in my life as Director of Sales for Tahiti Tourism North America, and his big personality lit the stage. That was over 20 years ago. He had been working for a bank in North Dakota, as I recall or a bank here in LA, but wherever it was, Tahiti and Los Angeles were lucky to meet this avid baseball fan.
It was during his time at Tahiti Tourism that he encountered his first serious health problem. He came through that one and was back on his feet in a few months. He never complained about any of his health problems. His friends and colleagues only saw his smiling face, ready to carry on with the job, and he genuinely loved to help his colleagues in business, and his friends here and in Tahiti.
After about 4 years at Tahiti Tourism, David started working for Air Tahiti Nui, right from the beginning of their operation. David and Joan Serra were the airline sales representatives; neither of them knew a thing about airlines, and as Joan recounts, they made it up as they went along! I know that Joan will want to add some vignettes to this blog about the start-up of ATN.
David had friends in high places in Tahiti and he never tired of fulfilling their requests. There were the honey-baked hams for one of the Presidents and bicycle parts for a hotel executive, and just plain friends that wanted goods from the U.S. He did it all without complaint. I would say, "David, are you nuts? You are too good to these people." His answer was always, "I like to help them, and they can't get these things in Tahiti!" He spent willing hours taking care of these friends.
His family, job and friends were the most important part of his life. Then Mahana Grace was born, and she truly was the light of his life. David lived in Tahiti to take care of Beli, the mother of Mahana Grace. He helped her through the birth and was overjoyed to see that little girl come into the world. She has been a blessing to him, and he was a blessing to her. It is too sad that she lost him at such a young age, however, his memory will not leave her.
I have a little vignette about David that some may find hard to believe – he loved coming to the Hollywood Bowl with Mark and me, to listen to classical music. During last year's season his emotions came through and he shed a small tear in his pleasure of being there.
David was a monumental personality. We all loved him, and we are all still in shock at his passing.
God bless you, David; you have made a lot of people happy.
– Marsha Morton
Celebration of Life
David Paul Nordquist
June 17, 1954 – March 20, 2015
David Paul Nordquist born June 17, 1954 the son of Gerald and Mildred Nordquist of Washburn, ND passed away on March 20th, 2015 at his home in El Segundo, California. To say that David lived a full, loving, impactful and colorful life would be an understatement. David will be remembered for his unquenchable love of family, friends, community and sport.
David's enthusiastic love of sport, especially baseball, developed over the years as a Washburn Cardinal and continued into his college years as a fan of the North Dakota "Fighting Sioux" athletic program. His love for the game of baseball was exemplified when he personally offered his services as the commissioner of major league baseball. It was an offer recognized but deferred by MLB.
As a student at the University of North Dakota and member of Sigma Alpha Epsilon, David was immersed in numerous activities giving of his time to greek, athletic, and student government organizations. Following graduation from the University of North Dakota, David returned home to Washburn as an associate of the Farmers Security Bank. During this time David devoted much of his time to the community and civic organizations. One project that became very dear to David was the development of Painted Woods Golf Course. Countless stories were created with friends at PWGC.
David moved to California in the early eighties and was employed with a variety of businesses including El Segundo National Bank, The National Red Cross, and El Segundo Chamber of Commerce. He enjoyed the community culture of El Segundo and attended many sporting events with his step-daughter Maureen. David then began his career with French Polynesia, first with Tahiti Tourism transitioning to Air Tahiti Nui where he became the Director of Incentives and Cruise Operations. Tahiti became an extended home for David where he developed a love for the Polynesian Islands and the way of life. Wonderful friends were made in his personal and professional dealings with the Islands.
In May of 2003 Mahana Grace Nordquist was born to David and Beli Ou Wen. David and Mahana often shared Thanksgivings with Rick and Rosa Guenett, Mahana's Godparents where David perfected the supervison of traditional USA holiday dinners on the island. Mahana is, was, and always will be the ultimate joy and pride of David. David's rare gift of bringing people into his life has been passed on to his beautiful and loving daughter.
David battled cancer and the side effects of treatment for the past twenty years. Throughout his trials and recoveries he was lovingly cared for by his dear Aunt Lucille (Nordquist) Ralston and cousin David Craig Ralston of El Segundo. David often referred to Aunt Lucille as his "second mother". Whenever he was asked about his health his response was positive and uplifting and redirected the discussion to the joy of the present. There simply wasn't room in his life for anything else but appreciating the positives.
David is survived by his daughter Mahana Grace Nordquist, of Papeete, Tahiti; parents Gerald and Mildred Nordquist of Washburn, ND; his sisters Laurie (Myron) Cullen and JoDee (John) Sayler, all of Bismarck, ND; and his brother Richard Nordquist of Washburn, ND; aunts Lucille (Nordquist) Ralston of El Segundo, CA; Beverly (Nordquist) Holtan of Bismarck, ND; and Agnes Liudahl of West Fargo, ND; Mahana's mother, Beli Ou Wen of Papeete Tahiti; step-daughter, Maureen (Addington) Roberge of Lake Havasu City, AZ; one niece, five nephews, numerous cousins, and dearly beloved friends.
Memorials may be sent to the Mahana Grace Nordquist Trust Fund, 124 Riverside Park Road Bismarck, ND 58504, attention Laurie (Nordquist) Cullen.
– from David's service April 11, 2015 in Washburn, North Dakota.
Comments
No comments made yet. Be the first to submit a comment